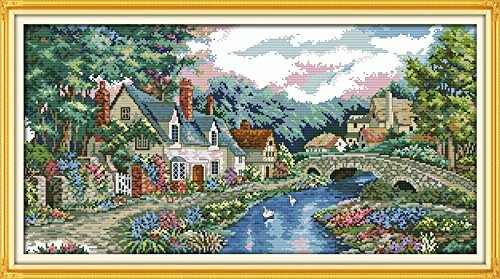 Connected
One of the games on my kindle is a program called Crossstitch. I looked at it askance when I first saw it in the kindle app library. What a monumental waste of time THIS program was. Even as a child, eyeing elderly women around me as they labored to embroider designs with yarn onto little circles - filling their every free hour with making things, as they had been taught as children - it seemed a waste of time. I never slowed even to really look at the designs they created, much less those done in cross-stitch style, with squares of color. The designs looked jagged and simplistic even from across the waiting room at the doctor's office. But squares of color are a natural In the age of digital, aren't they? And now that I myself am old and spend more time in doctors waiting rooms, suddenly I have discovered this absorbing activity - that takes me so far away from the reality of being there - is something I seek.
The program on my Kindle offers me a wide variety of pictures to unveil, roses in vases, ships in fjords, farmhouses in the country. There is even one I'm working on now that conceals paintings of the old masters and allows me to reveal them bit by tiny vivid bit, their colors hidden behind a maze of letters. When I push the button that makes the whole picture look farther away or close up, the beauty of the colored squares now thrills me with their beauty, and yet I am not even the artist who made the painting or the technician who turned it to digital or the crosshatch creator who decided how to label the squares. I don't care.
I select the letter H and as I pass my forefinger over the squares marked with it, dun yellow is filled into its place. I select S and royal blue fills a long line that marks the edge of a far shore. Green is next, indeed there are four letters with subtly differing shades of green, and even though, close up, I cannot see what I create, when I stand back there it is a tree growing under my warm finger as it somehow activates electronics on the face of the Kindle and somehow by some unfathomable miracle creates a tree. As the tree grows larger, subtle shadows and brightnesses emerge and then the near shore of the lake and then a boat far out upon it. A bridge is in the distance, likely built by Turkish prisoners two hundred years before. And a carriage is moving across it, a carriage that long ago could have held a man on his way to court a woman he would eventually marry. (Have their 5 times great grandchildren passed me on a freeway somewhere?) And beyond the bridge are the clouds of that day, that particular afternoon and the sun that set that day emerges from the little squares of color This was an image once seen by an artist who sat upon that bank at least 120 years ago. On that day he looked up and beheld that cloud. He flicked grey and mauve and hints of green onto his canvas to hold it down as it moved away. He recreated that day's sun setting, that tree which had leaved out slowly over weeks in a spring just past, looked just as he recreated it. The boat on the lake was perhaps owned by an old man, lost in his own thoughts, who had set sail from a small village nearby and passed in front of the artist's vision, and off again, into history's oblivion. It is so slow this unveiling of a world past. It is time travel, intimacy with the dead.
Did he rise that morning in his garret, the artist, brush his beard and dress himself in his white shirt and black pants and gather his art supplies and think to himself, today I will record in these inks made of lapis lazuli and the stains of flowers all the echoes of colors in the world I see around me. I will put them onto a canvas of woven flax and linen, made and sold by peasants who live nearby who sold it to me in the market last week. If my work pleases, it will find its way one day to a museum. Here, hundreds of people will walk by, year after year. They will mark this day that I will soon record. They will remember it and find beauty in it. They will photograph my work and put it in books. And when I am gone from memory or even fame, my colors will find life again under the thumbs of old women activating electrons on devices I cannot imagine. They will see again this tree I will sit under. They will watch again the boat from the village pass serenely across the lake. And the sun of this afternoon, this one singular afternoon, will take them over an hour to recreate and they will feel again the warmth of its colors in their hearts.
This life we look out upon is in the nature of a dream, the Buddhist lamas told me. How many dreams are woven into this single image? My own, the artist's, the old boatman, dead a century, the thoughts of the man in the carriage, the prisoners of war, 200 years in the ground when the image was painted, who built the bridge, brick by dun yellow brick. The makers of digital devices, ensconced in their elegant apartments in Silicon Valley, admiring their bank accounts, looking for new image resource banks. We are all connected, are we not? The colored dots of each day of our lives fill in one by one. And the world is made from them, and named, and remembered, and its echoes go on ahead of us to lives unknown.